When an unknown person or a vague acquaintance becomes obsessed with you and starts to destroy your peace of mind and your livelihood, that's no joke.
It's not romantic. It's not flattering.
Yet, stalking is often treated as if it doesn't exist because it mostly happens to women. It's as if, like endometriosis, it's seen as merely a common figment of women's imagination, emotional instability and anxiety.
Do an internet search on "Ina Steiner" or check out this related Wikipedia page. Warch the video below. Learn about the ordeal she and her husband went through when very powerful staff at a very powerful company (eBay) didn't like some of the couple's critical blog posts. Those eBay folks, one of them a former police captain, then resorted to sadistic stalking tactics to try to get Ms Steiner and her husband to shut up and punish them.
This is what stalking is like. It's not romantic. It's not flattering.

Do you see that stalking is often devastating, destructive and traumatic? Also often at least to some degree for the person who is doing the stalking?
My interest in stalking behaviors comes from having been the target of so-called sadistic stalking (also known as resentful stalking) along with community harassment for nearly 15 years myself now and having been unable to get support for how to deal with this immensely controlling and obsessive form of stalking.
I do not see options such as the victim taking Valium as a "solution" for stalking. I do not take Valium, clearly, or anything similar, but as I am migrant in a country where I do not know anyone, in a pretty hostile (extremely insular) town, I'm as they say "toast".
So-called sadistic stalking or resentful stalking certainly isn't sweet. There's nothing funny or flattering or romantic about it. It's immensely destructive, and often purposefully so.
Prolonged stranger-stalking is often supported or even enabled by society's otherization of targets and caused by society's prolonged otherization of perpetrators.
It's frequently long-term, by which I mean that it can go on for years, and sometimes even decades.
Stalking victims are often rejected and become profoundly otherized because of how the human brain functions. Its metabolism, its high energy consumption and its need to use the available energy as efficiently as possible make it tend to use often-used neural pathways and reinforce those pathways, just like it is easier to drive in the existing tracks in a deeply rutted road and follow the crowds than to drive against them.
When you express something that clashes with other people's beliefs and expectations of how the world works, it tends to make those other people experience you, who is saying things that don't match their expectations and beliefs, as a threat. It feels less threatening to them to assume that there is simply something wrong with you.
People expect what they are familiar with and they tend to fear the unfamiliar. Even scientists often respond this way and jump to conclusions. Keep that in mind.
The guy in the above photos is a communications expert. In these photos, he's arriving at a courthouse for stalking one of his (by then former) colleagues.
He initially stalked this woman in Gosport and Fareham in the English county of Hampshire. She was a colleague who just like him was working at the Navy. She was married. Among other things, this guy bugged the couple's bedroom. He also did crazy things like break into her home, take some of her birth control pills and put them in a cup at their place of work.
This went on for years. He engaged in so-called sadistic stalking (also known as resentful stalking). He even followed her to the county in which her parents were living when she moved in with them after her marriage broke down.
Fast forward to the present. He's in prison for life. Because he later tried to kill a different woman. Her name is Lorraine Nicholson. I've read that Ms Nicholson's stalker's idea when he attacked her had been to take her with him into death. He'd apparently intended to kill himself next. Source: https://www.bbc.co.uk/news/newsbeat-11295901
How many women had he stalked before?
That first woman's name is Tracey Morgan, but she was called Mrs Sant when the stalking began. She worked at the Navy.
---
Her stalker did other bizarre things besides take a number of birth control pills from her home and leave them in a cup at her work. He also disabled her car and then helped her with it, took underwear from her home and draped it over a car's antenna or mirror, and other nutty things such as cause leaks in her home when the woman and her husband were on holiday abroad.
He was a communications specialist for the Royal Navy so he was also able to bug her home, including her bedroom, back then when this took place. and most of us had never heard of a webcam.
Now imagine that you're that first woman and you have to tell people what someone else is doing. You're going to sound crazy but you are merely describing someone else's strange behavior. If you were to describe a robbery that you witnessed, then nobody in their right mind would accuse you of being a robber or of being crazy. Because people experience hearing about that as less threatening.
After her husband left this woman – because of the stalking – and her job had evaporated, she moved back in with her parents. This guy then relocated too and started stalked her in the county in which her parents were living. The stalking got him sent to prison several times. It did not stop him. He asked others to stalk Ms Morgan for him. He changed his name.
Changing your name is a mere matter of completing and submitting a form here in England; you can even do it without submitting a form.
What people often fail to understand is that stalking frequently takes up more time than a full-time job. This is another reason why stalking targets can sound crazy when they talk about what is being done to them. It all sounds to crazy to be possible.
---
Jul 5, 2001, 9:00:04 AM
From The Times
THURSDAY JULY 05 2001
Stalker who tried to kill girlfriend is jailed for life
BY HELEN STUDD
A MAN dubbed Britain's most notorious stalker was jailed for life
yesterday after he admitted trying to kill his girlfriend by severing
her hand in revenge for ending their relationship.
Anthony Hurdle, 41, became the first person in Britain to be convicted
of causing psychological grievous bodily harm in 1996 when new laws were
brought in to tackle stalkers. He was sent back to prison indefinitely
yesterday after his second attack on a woman in the past four years.
The former petty officer in the Royal Navy, who served in the Falklands,
attacked Lorraine Nicholson last November after she refused to return
his telephone calls. He broke into her home, tied her up and slashed her
wrist so badly that it severed every artery and vein in her left arm. As
he slashed his own arm, he said: "Look at these eyes, we will die
together," Maidstone Crown Court was told.
Miss Nicholson, 35, was found unconscious on the kitchen floor of her
home in Ashford, Kent. Without urgent medical attention she would not
have survived.
She met her attacker two years ago when the pair worked together for a
cleaning company at Great Chart Primary School, near Ashford, in Kent.
Brian Higgs, QC, for the prosecution, told the court that she had
recognised him weeks later as the subject of an ITV programme entitled
"I'm Watching You", about Britain's most notorious stalker.
When Miss Nicholson attempted to end the relationship, Hurdle began to
stalk her. He would send her letters, appear at her windows and turn up
at her place of work. Five days before the attack a friend of Miss
Nicholson received a message from him on her mobile phone which said:
"Please tell Lorraine her game is over. No call today and I take over
the process."
On the day of the attack she had already asked him to leave her alone
when he burst into her home. Locking the door behind him, he put her
left wrist on the draining board then slashed through it with a knife.
Her life was saved when her 17-year-old son, Bobby Grindley, returned
home soon afterwards. Hurdle, who said his crimes were committed because
he could not cope with the end of his relationship, then cut his own
wrists, telling Miss Nicholson: "You are going before me."
Judge Andrew Patience recommended that Hurdle, who admitted attempted
murder, should serve at least seven years in prison and said the Home
Secretary should be left to decide if he could ever be released. A
psychiatric report confirmed Hurdle would commit similar offences again
if allowed to walk free.
Hurdle has a long list of previous convictions for stalking dating from
1993. In 1996 he was jailed for three years and banned from Berkshire
for stalking a former Royal Navy colleague, Tracey Sant, over several
years. Within months of his release he was stalking her again and was
sent back to jail in January 1999 for another four months. Hurdle also
asked a fellow inmate to stalk her while he was in prison.
——————————————————————–
(c) The Times
---
The man who kidnapped Natascha Kampusch and kept her imprisoned for eight years also was a communications specialist (see here).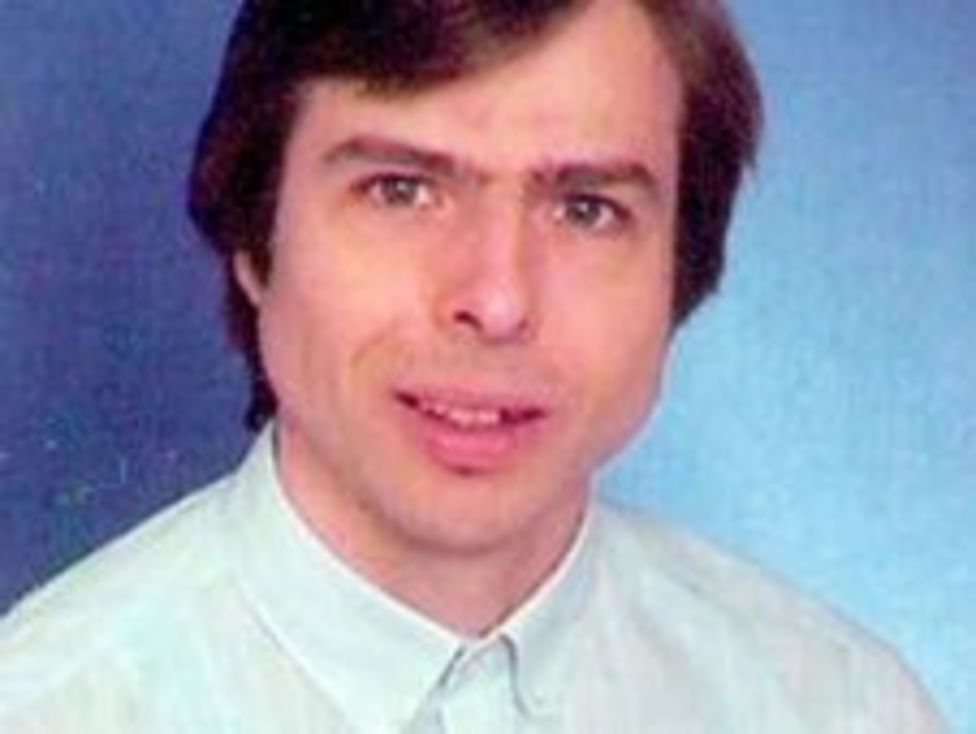 ---
Cognitive deficits
I've also looked at a stalking case that took place at around the same time as Ms Morgan was being stalked, the stalking of Laurisa Anello in St Petersburg, Florida.
A film was made about the latter. Both cases led to new legislation.
The parents of Laurisa Anello have said that the film accurately represents their experiences. You can see several times how Laurisa Anello's stalker (called Curtis in the film; his real name does not matter) simply doesn't get some things.
You can also see him get very frustrated at one point when Mrs Anello asks loudly and angrily "Do you hear me?" and he retorts "I hear! I hear!"
The film contains a scene at a courthouse in which he is asked to sign a document stating that he is to leave all members of the Anello family in peace. "Do you want me to sign this?" he asks. Laurisa's dad replies that they want him to sign it and understand it. He smiles, says "okay" and signs the document. When they leave the court house, he starts chatting with the parents and tells them how nice it is to see them again. The woman gets frustrated and dashes off. The stalker asks, very surprised, if she is mad (the American word for "angry"). In the car, Laurisa's mother tells her husband that he is just encouraging the stalker. He replies that it serves no purpose to make him angry either.
This is the perpetual dilemma that stalking victims face. The police rarely assists them until after a victim has been killed or seriously injured. However, when stalking victims thus are left to interact with the stalkers themselves, the police can later hold that against the victims. The police fails stalking victims as a rule, but it should not be the task of the police to solve the public health and neurodiversity challenges of stalking and harassment. It should not be the task of the powerless victims to find out what on earth they are dealing with and how to make it stop either, however. I've been arguing for a few years that cases of stalking and harassment should be dealt with very differently.
Of her stalker, Tracey Morgan has said that one excuse he used for a silent phone call included the following:
"I believe that I spoke to the Plaintiff's mother on 4th June 1995 at work and at home. In fact my recollection is that Mrs Morgan did most of the speaking and she told me amongst other thing to 'drop dead'. I telephoned again the following day, June 5th 1995 and on that occasion the Plaintiff answered the telephone. I remained silent on this one occasion because I had been expecting Mrs Morgan not the Plaintiff and was taken aback."
She added "Had this not been so distressing, some of his excuses are laughable."
He openly admits that he is stalking her, that he was making calls to her mother. He doesn't get it. He focuses purely on the truthfulness of the facts, but the effect of his actions completely appears to escape him.
In both cases, there is a clearly discernible cognitive deficit (as seen by us, the so-called neurotypicals) on the side of the stalker. Does that mean that society is actually to blame for not having provided these men with sufficient support?
In the case of Laurisa Anello, the stalking had a great deal to do with prolonged otherization by others of the man who stalked her. Laurisa did not make fun of him. Was that also the case in the stalking of Ms Morgan? Had Burstow been ridiculed and rejected by many people earlier in his life?
Both victims were – are – kind people. Both victims were traumatized and their lives were severely restricted for years.
In the case of Laurisa Anello, however, the fact that the man in question made headlines when he was in his early 20s – considerably younger than the man who stalked Ms Morgan – may ultimately have provided him with sufficient support. He has not made headlines since and appears to have held a well-paying job since. He had a tendency to transform into a highly confident person as soon as he put on a uniform. Among other things, he had been an umpire, a security guard, and a volunteer firefighter.
I suspect that both men are autistic, not necessarily "learning-disabled", just experiencing the world very differently and not understanding much of its many unwritten rules.
The kind of problem you get here is that people like Curtis and Anthony reason as follows. "Sending someone flowers – or chocolate – is a nice thing to do. So sending someone flowers – or chocolate – every day is a really really nice thing to do." That logic makes perfect sense. The fact that sending flowers – or chocolate – every day is a really creepy thing to do is completely incomprehensible to them and is actually hard to explain. (It's like feeding the birds, the squirrels or the stray cats every day, right? It's just a nice thing to do…)
The rejection they experience at that point, that's when anger, frustration and resentment can start to take over their lives, certainly if you combine it with lots of otherization from others.
Here are a few nice illustrative examples of how these things are nowhere near as strange as we may perceive them.
Did you know that it is perfectly normal to open the refrigerator and take whatever you want when you're a guest in an American home? Did you know that when a Chinese person refuses to look you in the eye, it may be a sign of great respect for you? Did you know that when Touareg people bare their faces, it may show that they don't hold you in high regard? In some countries, it's normal to leave one's doors unlocked for anyone to walk in and to have enough food in the house so that anyone who may be stopping by can sit down at the table and eat.
Someone like Curtis may find it perfectly normal to break into a woman's home to do her dishes and make her bed and take a little souvenir, which he will return after 3 months, as long as he picks the locks hence causes no damage.
Someone who's autistic may also stop the clock in your home because the ticking annoys him and he thus thinks he is doing you a favor. (Someone who has NPD may do it too, but only to make you late for your appointments or make you miss your train and will say that it's your own fault for not having paid more attention to the clock.)
An autistic person may also find a way to lower the pressure on your water pipe(s) so that your faucet (tap) stops dripping. (An aside: Can this potentially lead to mold growth in the parts of the water pipes that are exposed to air or do spores have a really hard time getting into the pipes? I think the risk is small.)
We feel that they want to impose their worldview on us and punish us when they perceive us as not being nice and truthful whereas they feel that we want to punish them for when they are being nice and truthful.
There is one big difference. Neurotypicals don't pick the locks of random neurodivergent folks and they don't hack into their phones and computers and they don't smash other people's plates to pieces, cause leaks in their homes or attack their pets when they get angry and they don't cut them off from their friends, colleagues, clients etc.
Wait a minute… We neurotypicals certainly often do the latter, as society.
Think of all the horrible things neurotypicals have done to for example autistic people over the years, and still do?
We still often chain them to walls and beds, deprive them of anything positive.
---

Our fear, the understandable fear of neurotypicals in the west when subjected to stalking behaviors from strangers, comes from unfamiliarity and from not knowing whether the person might murder us in our sleep next or rob us blind or threaten and torment us for years. We have no way of knowing what is on the person's mind.
To the well-meaning autistic person who engages in what we call stalking behaviors, knowing what is on his mind is enough. That surely is clear to the rest of the world too, he blindly believes.
Empathy is a weird beast.
An autistic person's empathy is focused inward but embraces everyone.
A person who has a narcissistic personality disorder may feel little or no emotional empathy, but certainly recognizes that some things are likely to make you feel miserable. So their empathy is focused outward (projected) and cognitive. They often have little or no emotional empathy for themselves either. They see.
Autistic people often lack the insight that some things are likely to make you feel miserable because they are somehow focused inward while exploring the outside world much more extensively than others. They feel.
People with NPD are often blind to the fact that not everyone ticks the same way and for example may not attach the same value to status (hence be impacted much less by its loss).
Someone with borderline personality disorder, by contrast, may see something terrible that happens to you within the odd context of something "awful" and inconveniencing that you did to that person. They're a mess of hurt and everything is focused on that hurt. They can't deal with the fact that whatever it is that happened makes them hurt (for you).
---
---
These two men operated before the internet and mobile phone use took off. Nowadays, there are so many ways to target victims and remain completely undetected. The average police officer has zero IT knowledge (but most police officers think that they are experts on the matter, as well as on the matter of mental health, and they are usually too quick to "assess" any woman who reports stalking as mentally unstable, a liar, an attention-seeking female, or simply getting old and no longer able to keep up, so that they can dismiss her report).
Some stalkers hire and trick others – flying monkeys – to harass their targets, abuse and obstruct them, orchestrating the destruction of their targets, but staying on the sidelines themselves, thus escaping scrutiny. The victim usually gets discredited as when she dares report what is going on.
Even the police in England, Wales and Northern Ireland themselves have admitted that stalking victims are failed as a rule. (See references at bottom of this page.)
---
In today's world, with the majority of people worldwide still believing that women aren't fully fledged human beings, maybe it is no surprise that stalking victims are dismissed as a rule. Most stalkers are men and most stalking targets are women.
That police forces may have stalking clinics now is of no use if reports of stalking are habitually dismissed.
It's much more complicated than that, however.
Something needs to change.
---
According to forensic psychologist Kerry Daynes (whose books I recommend), on Twitter in July 2022, a new approach is being tested. No, it's not. Keep reading.
She was stalked, too, by the way, but she seems to have overlooked that most stalking targets are not in a position of authority and are simply ignored.
Info on IASUs: https://justiceinnovation.org/project/anti-stalking-unit
---
The development of IASUs began BEFORE the police concluded that stalking victims were being failed as rule, however. So IASUs are not a new development.
More here: https://justiceinnovation.org/project/harm-reduction-unit
---
These long-term stranger-stalkers have a problem that they require help with and nobody seems to be giving them the professional, nonjudgmental support that they need.
This problem may start at a young age with an inability to communicate in such a way that others understand the person's harmless intentions. What eventually follows is anger over what they see as rejection and an inability to see the deleterious effect that their actions can have on someone else. There will be feelings of loneliness and despair about being misunderstood. But they are far from stupid. They learn from their experiences and they will also learn to use their actions to punish their targets if they want to, as an outlet for their anger and frustration.
They turn stalking into a career.
Women are usually made to deal with stranger-stalking and its consequences all by themselves.
If these women are fortunate, they were in some kind of high-status position when the stalking started because then they are more likely to be believed and supported.
If not, they are usually met with at least doubt and often with scorn and ridicule. Contempt.
---
Think about this. Do you feel what it must be like for these women?
If you can feel that, then you can also begin to imagine what the situation may be like for stalkers who would like to stop what they do and learn to communicate better, for example.
---
Where does stranger-stalking come from?
Even my very capable and bossy middle sister once confessed to me that she felt so deprived of love and appreciation during a certain time in her life that any kind man who paid her some attention almost made her want to drop to her knees and beg "please, please, please" (more, please). My sister is not autistic or learning-disabled – she's very intelligent – and she always was a stickler for etiquette. So my sister never acted on such urges. (Also, she said this around four decades ago, long before she got married.)
But what if your brain ticks a little differently, but you manage to function well enough in society so that nobody realizes that your brain ticks a little differently and there is no one to mediate for you? At work, you can hide behind a mask of learned habits but the rest of your life is a desert.
When I was 16 or 17, a young man approached me on a ferry in Greece, grabbed my hand and kissed it. I don't know what drove him to do that but – though there was a split second of hesitation on my side – it was clear to me that he meant no harm. Someone was with him, in the background. What happens if the same person does this as a grown man in his early or mid twenties, with the same mindset, but looking like a normal grown man?
When I was 33 and living in Florida, I was "pursued" (too strong a word in this particular case) by a janitor for a while. I realized that things were getting out of control when he started leaving gifts for me on my bicycle, which I used to commute and parked at the university. He had a kind colleague who exchanged a meaningful silent glance with me and gently steered him away. There was nothing "wrong" with the janitor as far as I could tell; he had a childlike enthusiasm, but wasn't very intelligent and therefore missed the ability to detect certain nuances. And thanks to Florida's high humidity, I looked like I was not even 20 yet, which surely didn't help. What would have happened if that colleague had not been there?
When I was 15, one of the boys in my high-school class very sneakily managed to leave a sticker in my French book, saying "my sweetheart", in German, adorned with pink hearts. Behavior like that was of course cool (="okay") among teenagers back then, but it is not something that adults are supposed to do.
Neurotypicals somehow learn this along the way, but neuro-a-typicals don't always. There is no good explanation for why teenagers can do this kind of stuff but adults cannot (unless they are already in a relationship). There is no logic in this.
There is no support for the targets of stalking behaviors that come from strangers. They are left to wrestle with this stranglehold on their lives on their own. They have to figure out entirely on their own who and what they are dealing with. When they ask for support, they are often dismissed as having an anxiety problem. Put differently: "It's all in your head, ma'm."
This means that there is even less – less than zero – support for people who engage in these kinds of behaviors, have learned that they are problematic and would like to learn to modify them.
Because stalking makes no sense, not from the side of stalkers either. It is a very costly behavior. For the perpetrators, it's very much high-risk and immensely time-consuming.
It is still not well understood, but often sensationalized.
People with Asperger's can sometimes become what the rest of us consider "obsessed" with another person and study that person and even experiment with the person as if it concerns a guinea pig in a cage.
"What will the guinea pig do if I stop giving it food? Eat through the walls of its cage? What compromises will the person make? Will the person's character change?" They don't mean harm, but want to learn everything about the guinea pig, including whether the guinea pig is a good or a bad person.
https://ibcces.org/blog/2017/04/26/stalking/
IBCCES, that's the International Board of Credentialing and Continuing Education Standards. There are people who mediate in courts, who serve as advocates for autistic people. IBCCES can provide training (and a certificate) to that end.
https://stalkingdetective.wordpress.com/2014/01/29/stalkers-with-aspergers-syndrome/
This is a former police officer's website.
http://professormichaelfitzgerald.eu/autism-aspergers-syndrome-stalking-and-other-reasons-for-legal-contact/
That's him: https://en.wikipedia.org/wiki/Michael_Fitzgerald_(psychiatrist)
When called stalkers, many people who engage in stranger-stalking tend to feel offended.
However, stalking is simply the term for a persistent obsession and often also interference with people who are chosen rather randomly and in whose lives these "stalkers" do not feature otherwise. They usually don't come over for tea and they don't meet at Starbucks, but they may have met at a joint meal with a group of friends and strangers or perhaps have had coffee together once, within a very neutral context.
We – the others – have no way of knowing what the intentions of "stalkers" are and that uncertainty alone can create a great deal of anxiety and even fear.
Some stalkers deliberately try to upset and scare the people their targets, or even brainwash them by isolating them and controlling every aspect of their lives. This frequently happens in so-called sadistic or resentful stalking, but also in cases of abusive relationships or of kidnapping of for example a young person and then keeping the person for years, which I see as an extension of stalking behaviors.
There are just as many stalkers who have no idea that they're causing an immense amount of distress.
The behavior of some of these stalkers strikes me as that of a very small child that wants something and is oblivious to anything else.
Nowadays, it sometimes happens that communities in which people who believe that this is hilarious simulate that someone has a sadistic stalker. That is despicable behavior. The effects on the victim are the same. So-called gang stalking is a relatively new phenomenon made possible by the advent of smartphones and the internet age in general, not to mention CCTV networks.
I believe that harassment and stalking behaviors coming from strangers, perhaps specifically so-called sadistic stalking – also called resentful stalking – are along the same spectrum that also includes cases of abduction (kidnapping) and illegal imprisonment, such as of Natascha Kampusch (kidnapped at 10 years old and held for eight years, who escaped) and perhaps also that of Jaycee Dugard (abducted at the age of 11 and held for eighteen years, who was found and identified).
Below is a rather complete typology of stalking behaviors. Not all forensic psychologists include the category "sadistic stalking", but some do mention "resentful stalking", which boils down to the same.
---
FURTHER READING
---
Anderson, J.L. (2018) Melvin Rowland and the criminal justice system – Report of investigative review. Utah Department of Public Safety, State Bureau of Investigation
https://dpsnews.utah.gov/wp-content/uploads/sites/37/2018/12/
18INV0680-Redacted-Exec-Summary.pdf
BBC News (2017) Shana Grice suspect 'broke in to watch her sleep'. BBC News.
https://www.bbc.co.uk/news/uk-england-sussex-39218705
BBC News (2017) Bijan Ebrahimi murder: 'Institutional racism' by council and police. BBC News.
https://www.bbc.co.uk/news/uk-england-bristol-42393488
BBC News (2017) Shana Grice murder: Stalker ex-boyfriend jailed for life. BBC News.
https://www.bbc.co.uk/news/uk-england-sussex-39363003
BBC News. (2018) Molly McLaren trial: Joshua Stimpson jailed for murder.
https://www.bbc.co.uk/news/uk-england-kent-42947446
BBC News (2018) My online stalker: The feeling he could hurt me never went away
https://www.bbc.co.uk/news/uk-england-hereford-worcester-43291038
BBC News (2019) Katrina Makunova killing: Police probed over victim's allegations. BBC News.
https://www.bbc.co.uk/news/uk-england-london-46829319
Bindel, J. (2005) The life stealers
https://www.theguardian.com/uk/2005/apr/16/ukcrime.weekend7
Boon, J.C.W. and Sheridan, L. (2001). Stalker typologies: A law enforcement perspective. Journal of Threat Assessment, 1, 75-97.
https://www.researchgate.net/publication/239804606_Stalker_Typologies
https://www.researchgate.net/publication/227990165_Stalker_Typologies_Implications_for_Law_Enforcement
https://onlinelibrary.wiley.com/doi/10.1002/9780470713037.ch5
Bradley Hagerty, Barbara (2017) When Your Child Is a Psychopath. The Atlantic. Published online in June 2017.
https://www.theatlantic.com/magazine/archive/2017/06/when-your-child-is-a-psychopath/524502/
Bulman, M. (2017) Stalking victim rejects police apology over stabbing after making 125 reports before the attack. The Independent.
https://www.independent.co.uk/news/uk/home-news/stalking-victim-police-apology-stabbing-125-reports-attack-helen-pearson-devon-cornwall-a7815061.html
Bulman, M. (2017) Victims of stalking being 'let down' by police, report warns. The Independent.
https://www.independent.co.uk/news/uk/home-news/stalking-victims-let-down-by-police-report-her-majestys-inspectorate-of-constabulary-a7824621.html
Chung, K.L. and Sheridan, L. (2021) Perceptions of Stalking: Examining Perceivers' Country of Origin, Perpetrator-Target Prior Relationship, and the Mediating Effect of Victim Responsibility. Journal of Interpersonal Violence
https://www.researchgate.net/publication/354445383_Perceptions_of_Stalking_Examining_Perceivers'_Country_of_Origin_Perpetrator-Target_Prior_Relationship_and_the_Mediating_Effect_of_Victim_Responsibility
DASH. (2009) DASH risk check list.
https://www.dashriskchecklist.co.uk/
Davis, K.E. (2006) Stalkers and their Worlds. Advances in Descriptive Psychology – Vol. 8
http://www.sdp.org/wp-content/uploads/2017/12/Davis-Stalkers-and-Their-Worlds.pdf
Deivanayagam T.A., Lasoye S., Smith J., Selverajah S. (2020) Policing is a threat to public health and human rights. BMJ Global Health 2021;6:e004582. doi:10.1136/bmjgh-2020-004582
https://gh.bmj.com/content/bmjgh/6/2/e004582.full.pdf
Ditum, S. (2018) A joint report by the Inspectorate of Constabulary and the CPS released last July looked at 112 cases of stalking and found that not one of them had been dealt with properly. The Independent.
https://www.independent.co.uk/voices/molly-mclaren-stalking-joshua-stimpson-stabbed-theodore-johnson-cps-a8198836.html
Dodgson, L. (2020) Twitch streamers are sharing their stories of violent stalkers to spread awareness of how to seek help
https://www.insider.com/twitch-streamers-are-being-stalked-and-harassed-online-2020-9
Dornan, J. (2015) Jamie Dornan: I stalked a woman to get into The Fall role
https://www.theguardian.com/culture/2015/apr/01/jamie-dornan-stalked-woman-the-fall
Harrison, W. (2018) A timeline of the Molly McLaren murder case – everything we know so far. Kent Live News.
https://www.kentlive.news/news/kent-news/timeline-molly-mclaren-murder-case-1126035
HMIC (2017) Living in fear – the police and CPS response to harassment and stalking. A joint inspection by HMIC and HMCPSI. ISBN: 978-1-78655-414-7. HMIC, 114 pages.
https://www.justiceinspectorates.gov.uk/hmicfrs/news/news-feed/victims-of-harassment-and-stalking-left-at-risk-by-the-police-and-crown-prosecution-service/
IASUs: https://justiceinnovation.org/project/harm-reduction-unit and https://justiceinnovation.org/project/anti-stalking-unit
Le Duc, F. (2017) I'm just not right in the head' – jury hears recording of Portslade murder defendant apologise to victim. Brighton and Hove News.
https://www.brightonandhovenews.org/2017/03/09/im-just-not-right-in-the-head-jury-hears-recording-of-portslade-murder-defendant-apologise-to-victim/
Levenson, E. and Johnston, C. (2018) Utah student's 911 calls asked police to stop her harasser. Days later she was murdered. CNN.
https://edition.cnn.com/2018/12/25/us/utah-student-killed-911-lauren-mccluskey/index.html
Miller, R. W. (2018) A 19-year-old stalking victim was fined for 'wasting police time' — and then she was killed
https://eu.usatoday.com/story/news/world/2019/04/10/shana-grice-sussex-police-face-discipline-after-stalking-case/3428958002/
Morris, S. (2017) Police failed to protect Bijan Ebrahimi prior to his murder, IPCC says. The Guardian.
https://www.theguardian.com/uk-news/2017/jul/05/police-failure-protect-bijan-ebrahimi-murder-ipcc
Morris, S. (2018) Council officials face investigation over Bijan Ebrahimi case. The Guardian.
https://www.theguardian.com/uk-news/2018/jan/15/council-officials-face-investigation-over-bijan-ebrahimi-case
Murdock, S. (2019) Lauren McCluskey Sought Help Against A Dangerous Man. She Still Died. The Huffington Post US.
https://www.huffingtonpost.co.uk/entry/lauren-mccluskey-university-of-utah-domestic-violence_us_5c268d9ee4b08aaf7a905aef
National Stalking Advocacy Service Paladin. Key facts and figures.
https://paladinservice.co.uk/key-facts-and-figures/
Norton, Carla (2014) Can psychopaths be rehabilitated? The Atlantic, 5 February 2014.
https://www.theatlantic.com/health/archive/2014/02/can-psychopaths-be-rehabilitated/283300/
Parkin, S. (2014) Zoe Quinn's Depression Quest #gamergate #4chan
https://www.newyorker.com/tech/annals-of-technology/zoe-quinns-depression-quest
Quillan, Lillyth (2018) The isolating life of parenting a potential psychopath. The Atlantic, 21 August 2018.
https://www.theatlantic.com/family/archive/2018/08/conduct-disorder-parent-support-groups/567946/
Roberts, R. (2017) Ex-boyfriend who murdered Shana Grice 'stalked 13 other young women and girls but police took no action'. The Independent.
https://www.independent.co.uk/news/uk/crime/shana-grice-murder-michael-lane-ex-boyfriend-stalking-other-women-sussex-police-ipcc-a7709636.html
Schulze, L., Dziobek, I., Vater, A., Heekeren, H.R., Bajbouj, M., Renneberg, B., Heuser, I., and Roepke, S. (2013) Gray matter abnormalities in patients with narcissistic personality disorder. Journal of Psychiatric Research 47 (10), 1363-1369.
https://doi.org/10.1016/j.jpsychires.2013.05.017
Sheridan, L, Davies, G.M. and Boon, J. (2001) The Course and Nature of Stalking: A Victim Perspective. The Howard Journal of Crime and Justice
https://www.researchgate.net/publication/227627898_The_Course_and_Nature_of_Stalking_A_Victim_Perspective
Sheridan, L. and Roberts, K. (2011) Key Questions to Consider in Stalking Cases. Behavioural Sciences & the Law.
https://www.researchgate.net/publication/49792530_Key_Questions_to_Consider_in_Stalking_Cases
SRP. Stalking risk profile. Stalk Inc.
https://www.stalkingriskprofile.com/
Streitfeld, D. (2020) Inside eBay's Cockroach Cult: The Ghastly Story of a Stalking Scandal
https://www.nytimes.com/2020/09/26/technology/ebay-cockroaches-stalking-scandal.html
Summers, Hannah (2021) Interview. 'It was like a horror film': Sophie Walker on her stalking nightmare – and how the police failed her. The Guardian, 24 May 2021.
https://www.theguardian.com/uk-news/2021/may/24/it-was-like-a-horror-film-sophie-walker-on-her-stalking-nightmare-and-how-the-police-failed-her
Wilford, G. (2017) Man murdered ex-girlfriend days after she reported him to police for stalking. The Independent.
https://www.independent.co.uk/news/uk/crime/soldier-trimaan-harry-dhillon-murder-ex-girlfriend-alice-ruggles-report-police-stalking-gateshead-a7706266.html