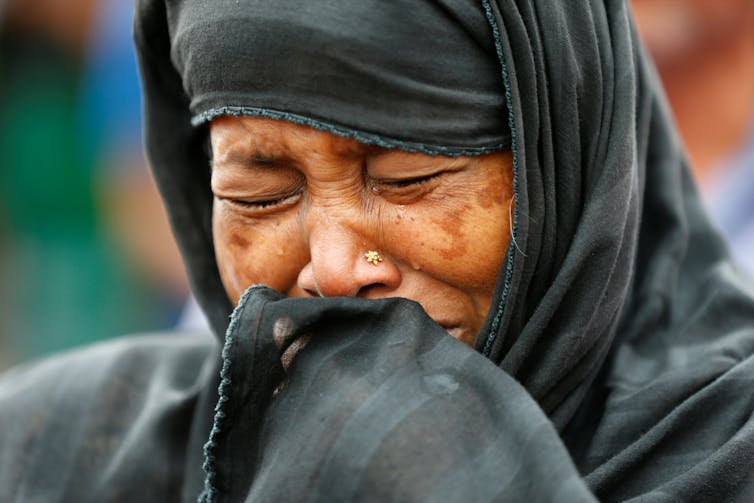 The unexpected death of a loved one can cause severe distress to relatives. It can lead to mental complications including post traumatic stress disorder (PTSD).
A world mental health survey shows that about 5.2% of people who lose loved ones suffer from PTSD. But how do you know who suffers from PTSD after a traumatic loss so that you can give them the care they need?
Unfortunately, in Africa most people go undiagnosed. This is because only two countries on the continent have carried out national surveys on mental health – South Africa and Nigeria. Concerning trauma and PTSD, the only significant data emanated from the South African Survey, since the Nigerian one did not have a high enough prevalence rate to enable detailed analysis.
The recent global survey identified a number of predictors that significantly increase the risk of PTSD after a loss. These include: whether the deceased is either a spouse or child, being female, believing that one could have done something to prevent the death, prior exposure to a traumatic event and having a previous mental disorder before the trauma.
Using these predictors it was possible to construct a model that can be used to determine those with the highest risk of developing PTSD after the unexpected death of a loved one. This model makes it feasible for clinicians helping people who have suddenly lost loved ones to develop interventions that are evidence-based and with high probability of success. This should provide opportunities for affected people being able to be provided with the appropriate care after this traumatic event.
PTSD and death
PTSD happens after a person is exposed to an event that poses a threat to their life. It is a group of symptoms that include re-experiencing the event, changes in emotions and cognitive functions. Irritability, reckless or self-destructive behaviour, sleep problems and low concentration are common.
Families and caregivers can recognise PTSD in a loved one because the symptoms are a change from their usual behaviour. These signs and symptoms begin within a month of experiencing the traumatic event like the unexpected death of a loved one.
The person may experience nightmares or flashbacks, will avoid distressing memories, thoughts, or feelings associated with the traumatic event.
Due to the trauma, the person may also develop memory problems and feelings of detachment from friends, colleagues and family are common. The person may also display exaggerated negative beliefs about themselves, others or the world. In some cases, depression and drug abuse is noted.
People who have unexpectedly lost a loved one are at a higher risk of getting PTSD so they should be identified early enough and appropriately counselled.
The high prevalence and meaningful risk of PTSD makes the unexpected death of a loved one a major public health issue. Due to a collaborative initiative under the World Health Organisation (the World Mental Health Surveys Initiative) it is now possible to predict the occurrence of PTSD after a traumatic event such as the unexpected death of a loved one.
The resulting screening assessments will be useful in identifying high risk individuals prone to PTSD for early interventions.
Data deficit
Raising relevant data is one of the biggest challenges to tackling the issue of PTSD in Africa.
African countries should carry out national mental health surveys because they provide information that can be used for planning care and rationally allocating resources in mental health. They also provide information necessary in policy formulation and mental health interventions.

Without a national survey, countries often misallocate resources, ending up with situations in which they neglect the most important problems and intervene disproportionately in low priority areas. This is responsible for the current situation in which what is probably a silent mental ill-health epidemic which is sweeping across the continent.
Lukoye Atwoli, Dean, Moi University School of Medicine, Consultant Psychiatrist and an Associate Professor in the Department of Mental Health, Moi University
This article was originally published on The Conversation. Read the original article.
Katherine Sleeman, King's College London
The High Court has rejected a judicial review challenging the current law which prohibits assisted dying in the UK. Noel Conway, a 67-year-old retired lecturer who was diagnosed with Motor Neurone Disease in 2014, was fighting for the right to have medical assistance to bring about his death. Commenting after the judgement on October 5, his solicitor indicated that permission will now be sought to take the case to the appeal courts.
Campaigners are often quick to highlight the strength of public support in favour of assisted dying, arguing that the current law is undemocratic. But there are reasons to question the results of polls on this sensitive and emotional issue.
There have been numerous surveys and opinion polls on public attitudes towards assisted dying in recent years. The British Social Attitudes (BSA) Survey, which has asked this question sequentially since the 1980s, has shown slowly increasing public support. Asked: "Suppose a person has a painful incurable disease. Do you think that doctors should be allowed by law to end the patient's life, if the patient requests it?" in 1984, 75% of people surveyed agreed. By 1989, 79% of people agreed with the statement, and in 1994 it had gone up to 82%.
Detail of the question matters
But not surprisingly, the acceptability of assisted dying varies according to the precise context. The 2005 BSA survey asked in more depth about attitudes towards assisted dying and end of life care. While 80% of respondents agreed with the original question, support fell to 45% for assisted dying for illnesses that were incurable and painful but not terminal.
A 2010 ComRes-BBC survey also found that the incurable nature of illness was critical. In this survey, while 74% of respondents supported assisted suicide if an illness was terminal, this fell to 45% if it was not.
It may not be surprising that support varies considerably according to the nature of the condition described, but it is important. First, because the neat tick boxes on polls belie the messy reality of determining prognosis for an individual patient. Second, because of the potential for drift in who might be eligible once assisted dying is legalised. This has happened in countries such as Belgium which became the first country to authorise euthanasia for children in 2014, and more recently in Canada where within months of the 2016 legalisation of medical assistance in dying, the possibility of extending the law to those with purely psychological suffering was announced.
It's not just diagnosis or even prognosis that influences opinion. In the US, Gallup surveys carried out since the 1990s have shown that support for assisted dying hinges on the precise terminology used to describe it. In its 2013 poll, 70% of respondents supported "end the patient's life by some painless means" whereas only 51% supported "assisting the patient to commit suicide". This gap shrank considerably in 2015 – possibly as a result of the Brittany Maynard case. Maynard, a high-profile advocate of assisted dying who had terminal cancer, moved from California to Oregon to take advantage of the Oregon Death with Dignity law in 2014.
Even so, campaigning organisations for assisted dying tend to avoid the word "suicide". Language is emotive, but if we want to truly gauge public opinion, we need to understand this issue, not gloss over it.
Information changes minds
Support for assisted dying is crucially known to drop-off simply when key information is provided. Back in the UK, a ComRes/CARE poll in 2014 showed 73% of people surveyed agreed with legalisation of a bill which enables: "Mentally competent adults in the UK who are terminally ill, and who have declared a clear and settled intention to end their own life, to be provided with assistance to commit suicide by self-administering lethal drugs." But 42% of these same people subsequently changed their mind when some of the empirical arguments against assisted dying were highlighted to them – such as the risk of people feeling pressured to end their lives so as not to be a burden on loved ones.
This is not just a theoretical phenomenon. In 2012, a question over legalising assisted dying was put on the ballot paper in Massachusetts, one of the most liberal US states. Support for legalisation fell in the weeks prior to vote, as arguments against legalisation were aired, and complexities became apparent. In the end, the Massachusetts proposition was defeated by 51% to 49%. Public opinion polls, in the absence of public debate, may gather responses that are reflexive rather than informed.

Polls are powerful tools for democratic change. While opinion polls do show the majority of people support legalisation of assisted dying, the same polls also show that the issue is far from clear. It is murky, and depends on the responder's awareness of the complexities of assisted dying, the context of the question asked, and its precise language. If we can conclude anything from these polls, it is not the proportion of people who do or don't support legislation, but how easily people can change their views.
Katherine Sleeman, NIHR Clinician Scientist and Honorary Consultant in Palliative Medicine, King's College London
This article was originally published on The Conversation. Read the original article.