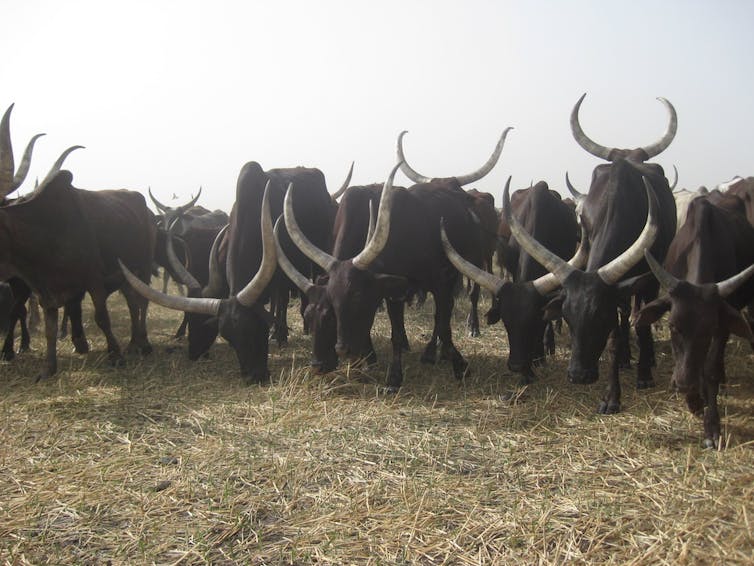 Mark Moritz, The Ohio State University; Alice B. Kelly Pennaz, University of California, Berkeley; Mouadjamou Ahmadou, and Paul Scholte, The Ohio State University
In 2016, as part of a ceremony in Cameroon's capital Yaoundé, 2 000 elephant tusks were burned to demonstrate the country's commitment to fight poaching and illegal trade in wildlife. US Ambassador to the United Nations Samantha Power gave a speech at the event linking poaching to terrorism.
The idea that terror groups like Boko Haram fund their activities through ivory poaching in Africa is a simple and compelling narrative. It has been adopted by governments, NGOs and media alike. But it is undermining wildlife conservation and human rights.
The problem is that such claims hinge on a single document which uses only one, unnamed source to estimate terrorist profits from ivory. The study hasn't been backed up elsewhere.
Similarly, there is little evidence that terrorist activities are funded by wildlife poaching in Cameroon. We have studied wildlife conservation and pastoralism in the Far North Region of Cameroon in the last two decades. We have found that it is highly unlikely that Boko Haram is using ivory to survive financially. The elephant populations in the areas where Boko Haram operates are so low that this would be a faulty business plan to say the least. Only 246 elephants were counted in Waza Park in 2007.
Talking about ivory-funded terrorism overlooks the real sources of income for these groups. In Cameroon and Nigeria evidence shows that Boko Haram is using profits from cattle raids to support its activities. Boko Haram's plunder of the countryside leaves cattle herders destitute.
The dangers of militarisation
The wrong focus has implications for conservation and human rights. Linking poachers and terrorists has led to a further militarisation of conservation areas in Africa. More guns and guards have been sent into parks to stop poachers.
The military approach has also led to serious human rights violations. These take the form of shoot-on-sight policies and other violent tactics carried out against local populations. Law enforcement in protected areas is important for controlling poaching and terrorism alike but it is not a perfect solution.
And wildlife conservation can suffer if well armed but underpaid park guards turn to poaching themselves.
It would be more helpful if properly paid and trained people provided security across the region rather than just in protected areas.
Consequences of the wrong connection
Ignoring the fact that cattle, not ivory, may be fuelling terrorism in places like Cameroon does a disservice to pastoralists. While livestock may compete with wildlife when pastoralists take refuge inside better-protected areas like parks, they do so only because their livelihoods are at risk.
Mistaking the true source of income for terrorist groups also means that their violent activities continue.
Finally, it diverts attention from corrupt conservation and government officials who may be complicit in poaching.
Of course, this is not to say that poaching is not happening. The dramatic declines in elephant populations in Cameroon and elsewhere in Africa indicate otherwise. The question is who is doing the poaching and why.
We challenge governments and organisations interested in wildlife, security and human rights to take a closer look at the evidence. Instead of sharing simple claims about terrorism and poaching, they should consider all the forms of economic support to terrorist organisations.

In Cameroon, this would mean offering better security for pastoralists and their cattle. Protecting cattle does not have the same appeal for Western audiences as protecting elephants. But it could be a way to conserve wildlife, protect human rights and stop funding for terrorism.
Mark Moritz, Associate Professor of Anthropology, The Ohio State University; Alice B. Kelly Pennaz, Researcher, University of California, Berkeley; Mouadjamou Ahmadou, Lecturer in Visual Anthropology, and Paul Scholte, Ecologist leading programs and organizations in conservation, The Ohio State University
This article was originally published on The Conversation. Read the original article.